Getting there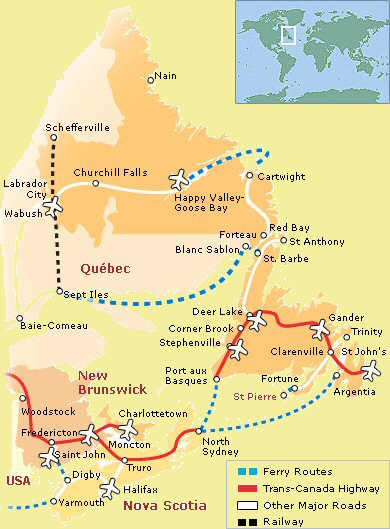 Actually there are only two ways of getting to Newfoundland: by air or by water.
This map shows you the major travel routes.
By air
By ferry

From Nova Scotia to Newfoundland
Strait of Belle Isle
St. Anthony to Coastal Labrador
1. By air
From anywhere in Canada, from all across North America, from major gateways and cities, in the USA, and from Northern Europe, modern jet travel is available to bring you to Newfoundland.
Airlines
Air Canada, Air Canada tango, and Air Canada jazz operate regular air service to Newfoundland and Labrador, with connections available from all major centres in the United States and Canada.
Air Transat offers charter flights from Toronto to Newfoundland and Labrador during the summer months.
Air Canada jazz, Provincial Airlines, and Air Labrador provide regular service within Newfoundland and Labrador.
Air Labrador also offers service through St. Anthony to many points in Labrador.
Provincial Airlines also offers service to the French island of St. Pierre.
Approximate travel times by air:
Boston - St. John's : 3 hours
London - St. John's : 5 hours
Montreal - St. John's : 2 hours
Toronto - St. John's : 3 hours
Halifax - St. John's : 1 hour 30 min.
Websites of airlines:
Air Canada
Air Canada Tango
Air Canada Jazz
Provincial Airlines
Air Labrador
Air Transat

2. By ferry
2.1 From Nova Scotia to Newfoundland
Year-round vehicle and passenger ferry service is provided by Marine Atlantic between North Sydney, Nova Scotia, and Port aux Basques, Newfoundland. Crossing time is 6 hours. (This ferry connects with the trans-island bus service operated by DRL Coach Lines.)

From mid-June to mid-September, an additional ferry operates between North Sydney and Argentia in eastern Newfoundland, which are 45 kilometres from Route 1 and 131 kilometres from the provincial capital of St. John's. Crossing time is 12-14 hours.

For rates and schedules, contact:
Marine Atlantic Reservations Bureau
P. O. Box 250
North Sydney, NS B2A 3M3
Telephone: (902) 794-5700
Toll Free Canada and U.S.: 1-800-341-7981
Website: http://www.marine-atlantic.ca/
2.2 Strait of Belle Isle
There is daily ferry service in summer between St. Barbe on Newfoundland's Viking Trail and Blanc Sablon on the Quebec-Labrador border. Take this ferry to reach Route 510. Crossing time is 80 minutes.

For reservations or information on schedules and rates, contact:
The Woodward Group
St. Barbe Ferry Terminal
St. Barbe, NL
A0K 1M0
Telephone: 1-800-563-6353
2.3 St. Anthony to Coastal Labrador
The coastal boat service from St. Anthony calls at some 40 isolated villages as far north as Nain, Labrador. The one-way trip takes about 12 days. This is a freighter service and does not carry automobiles.

For reservations and rates please contact:
Coastal Labrador Marine Services
P.O. Box 790
Lewisporte, NL
A0G 3A0
Telephone: (709) 535-6872