Distances and driving times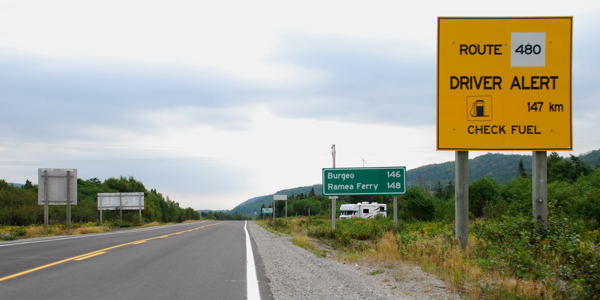 Warning sign at Route 480 to Burgeo: next filling station at 147 km.
The road distances and estimated driving times below have been derived from the Road Distance Database of the Newfoundland & Labrador Statistics Agency.

All distances are in kilometres (To convert to miles divide by 1.6); driving times are in hours.
Driving times are estimated on average speed limit of individual road segments, but with a maximum speed of 80 Km/h.

For road distances and driving times between destinations on Newfoundland not mentioned in the chart above, please consult the Road Distance Database.
Gander
Port aux Basques
St. Anthony
St. John's
km
time
km
time
km
time
km
time
Argentia
282
3:31
854
10:41
1000
12:55
130
1:37
Badger
124
1:33
448
5:36
594
8:42
454
5:41
Baie Verte
272
3:24
425
5:19
571
8:54
602
7:31
Bishop's Falls
80
1:00
492
6:09
638
9:08
410
5:07
Bonavista
233
3:07
805
10:04
951
13:04
296
3:44
Botwood
93
1:10
513
6:25
659
9:28
423
5:17
Branch
331
4:08
903
11:17
1049
13:29
145
1:58
Buchans
198
2:29
522
6:31
668
9:56
528
6:36
Burgeo
566
7:05
305
4:03
676
10:31
896
11:12
Cape St. Mary's
342
4:17
913
11:25
1059
13:34
171
2:08
Carbonear
300
3:45
872
10:54
1018
13:14
101
1:22
Carmanville
64
1:04
632
7:54
778
10:58
394
4:55
Clarenville
161
2:00
717
8:58
863
11:25
186
2:20
Conche
658
8:13
633
7:55
140
2:04
986
12:19
Corner Brook
357
4:28
219
2:44
467
7:27
687
8:35
Deer Lake
307
3:50
265
3:19
417
6:56
637
7:58
Ferryland
354
4:25
926
11:35
1072
13:44
75
0:56
Gambo
46
0:34
618
7:43
764
10:26
294
341
Gander
0
0:00
572
7:09
718
9:56
330
4:07
Glovertown
72
0:53
634
7:55
780
10:35
273
3:25
Goobies
190
2:22
745
9:19
891
11:40
157
1:58
Grand Bank
371
5:02
919
11:29
1065
14:58
355
4:54
Gander
Port aux Basques
St. Anthony
St. John's
km
time
km
time
km
time
km
time
Grand Falls - Windsor
95
1:11
477
5:58
623
8:59
425
5:19
Harbour Breton
280
4:10
702
8:47
848
12:37
610
7:37
Hawke's Bay
514
6:32
477
6:10
204
3:24
844
10:33
Hermitage
274
4:04
697
8:43
843
12:31
604
7:33
Keels
206
2:40
778
9:43
924
12:37
269
3:22
La Scie
316
3:57
470
5:53
616
9:38
646
8:04
Lewisporte
60
0:45
541
6:46
687
9:44
390
4:53
Marystown
315
4:06
864
10:48
1010
14:02
299
3:59
Old Perlican
350
4:23
922
11:31
1068
14:05
153
2:14
Placentia
278
3:29
850
10:37
996
12:50
126
1:35
Port aux Basques
572
7:09
0
0:00
681
9:34
902
11:17
Port au Choix
536
6:57
500
6:35
203
3:26
866
10:49
Rocky Harbour
372
4:39
335
4:11
347
5:47
702
8:47
Roddickton
640
8:00
615
7:41
123
1:50
968
12:06
Sandyville
274
4:04
697
8:43
843
12:31
604
7:33
Springdale
199
2:29
394
4:55
540
8:14
529
6:37
St. Anthony
718
9:56
681
9:34
0
0:00
1048
13:16
St. John's
330
4:06
902
11:17
1048
13:16
0
0:00
Stephenville
435
5:26
165
2:04
545
8:25
765
9:34
Trepassey
371
4:38
943
11:47
1089
14:31
147
1:51
Trinity East
193
2:27
765
9:34
911
12:23
256
3:12
Twillingate
113
1:53
626
7:49
772
11:08
443
5:32